Impreza Sedan
Agile, Versatile and Stylish.
Just Like You.
Advanced Safety Package: Subaru Rear Vehicle Detection (SRVD)*
Sensors placed around the vehicle alert you of vehicles in your rear blind spots for safer lane changes. It also warns you of potential collision danger whilst driving in reverse into a street with cross traffic.
Advanced Safety Package: High Beam Assist (HBA)*
High Beam Assist increases visibility and safety when driving at night by toggling the high beams on and off automatically, depending on driving conditions.
Visibility
Design improvements have been made with the viewing angle of drivers in mind to offer better front and rear visibility.
Vehicle Dynamics Control System & Active Torque Vectoring
If the vehicle approaches the limits of stability, the AWD torque distribution, engine output, and brakes at each wheel are adjusted to help keep the vehicle on course. And with Active Torque Vectoring, brakes are applied and less torque is distributed to the inside wheels and more to the outside wheels for more precise handling, helping you make sharp turns when necessary.
* View the conditions
* The driver is always responsible for safe and attentive driving and observance of traffic regulations. Please do not depend solely on the Advanced Safety Package features for safe driving. There are limitations to the recognition features of this system. See Owner's Manual for complete details on system operation and limitations. Please ask your retailer for more details.
SUBARU GLOBAL PLATFORM
The SGP's advancements throughout the chassis—higher rigidity, higher strength, lighter weight, better rolling resistance and responsive steering—particularly benefit these safety systems.
Hazard Avoidance
Made possible by the SGP, the lower centre of gravity design, enhanced suspension system, and rigidity improvements provide a vehicle that responds immediately when evasive actions are taken, helping avoid hazards on the road.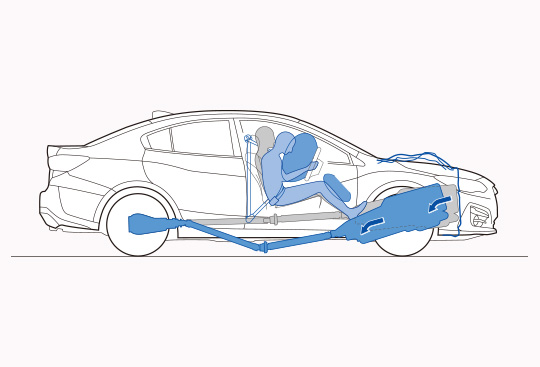 Cabin-Protecting Layout
Now sitting lower than ever due to the low centre of gravity design of the SGP, the engine and gearbox are designed to avoid crashing into the cabin in the event of a collision.
Ring-shaped Reinforcement Frame
The ring-shaped reinforcement frame makes better use of high-tensile steel panels and has been structurally redesigned for more efficient energy absorption from impacts in all directions.
Supplemental Restraint System (SRS)* Airbags
Front SRS* airbags, front side SRS* airbags, curtain SRS* airbags, and a knee SRS* airbag come standard on the all-new Impreza to give all passengers a higher level of protection in the event of a collision.
Whiplash-mitigating Front Seats
Designed to enhance comfort and help the driver feel more planted for more control, these seats can also help reduce the possibility of whiplash resulting from certain types of collisions.
Locking-tongue Seatbelts
During an impact, the locking tongue limits movement in the lap belt and reduces impact in the lower chest area to improve safety and reduce injury levels.